Welcome to Carthage, Mississippi!
Welcome to the City of Carthage, where you will discover our friendly community and hometown atmosphere. Carthage is deeply rooted in rich history which creates a family-oriented community that makes Carthage an attraction for visitors and businesses alike. Since its charter in 1876, the city has grown to a population of over 4,901 according to the 2020 census.
The Center of Mississippi
The City of Carthage is located in Leake County and is at the geographical center of Mississippi and has many services to offer:
Outstanding health care facilities
Three beautiful parks
Trustmark Park's exquisite amphitheater
Highly trained and well equipped Fire and Police Department
Local businesses offering retail shopping for most needs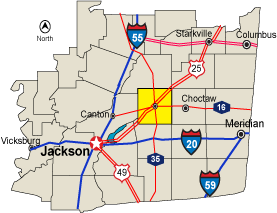 Visit, raise a family, or retire
The amenities of the City of Carthage provide people with a great place to visit, raise a family, or retire.
Economic Development
The City of Carthage is not only committed to its hometown atmosphere, but it is also committed to economic development by offering:
Available industrial buildings
A fully developed Industrial Park
Prospective retail businesses with exciting business opportunities
With Carthage being the geographic center of the state, it provides a location that will allow businesses to grow and expand.
Come visit!
Enjoy the website and come visit the City of Carthage, the center of all things Mississippi.